Archive for the 'Latest News' Category
At the beginning of August each year  the Medellín Flower Festival is celebrated in the  city with much gusto. It attracts large crowds into the streets to see the colourful and exotic processions. In particular people love to see the Desfile de Silleteros, the parade through downtown Medellín in which hundreds of silleteros  carry  elaborate floral displays ( silletes ) on wooden frames on their backs. Silleteros are flower vendors, farmers who carry their wares down from the mountains to sell in squares and markets. More than 500 take part in the parade, which is the highlight of the week-long Flower Festival.
Following on this Festival comes the Festival de Antioqueñidad, organised by the Mayor's Office and specifically for organisations that work with children at high social risk. The organisations make silletes with tissue and crepe paper and compete with each other. This year about 15 organisations took part and for the second year running Funvini's entry won First Prize!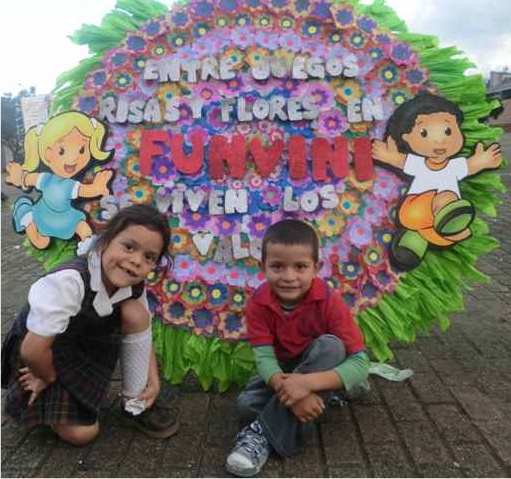 Eternal Spring, the CD made by Funvini's Choir, Cor Videns, ( The Seeing Heart ) has already sold out of its first pressing and is now well on the way through it's second. Featuring the choir singing classical, religious and Colombian music it can be ordered from the charity at a cost of £7.50, including P&P. It is also available from the following outlets: the charity's shop in Walsingham; the Slipper Chapel Shop and the St Paul Bookshops.
To order from Let The Children Live!
i) Ring 01302 858369
or
ii) E-mail to: letthechildrenlive@mac.com                                                                                                     
or
iii) Write to:
PO Box 11
Walsingham
NR22 6EH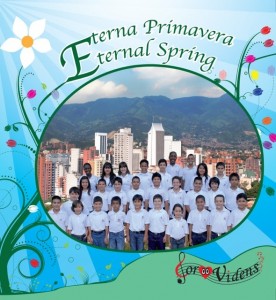 Extract from a concert given by Cor Videns, Funvini's choir, in Medellín earlier this year.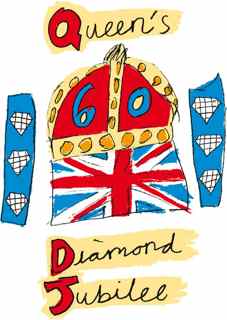 Funvini's choir, Cor Videns, scored a hit when they staged a Jubilee Concert in Medellín on July 11.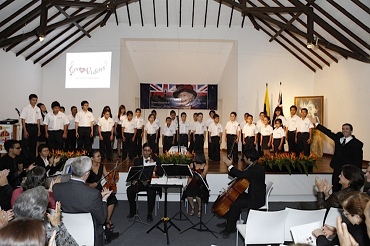 The event was organised by Mr Stephen Davidson and Medellín's Colombo-British Association with the help of Señor Fernando Osorio, the Honorary British Consul in Medellín, and of the British Embassy in Bogotá. It was held to celebrate both the Queen's Official Birthday and Her Majesty's Diamond Jubilee. It took place in the Castle Museum and was attended by about 150 people. Amongst other distinguished guests in the audience were H.E. The British Ambassador and Mrs John Dew. The concert was followed by a reception, and the proceeds of the event were donated to Funvini. Even more important than the financial benefit, however, was the number of important new Colombian friends that the concert has gained for Funvini.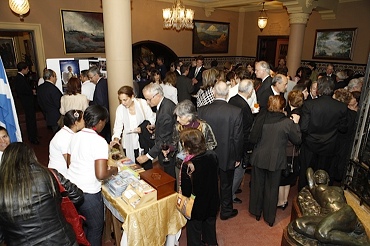 For our children it was a big event but they acquitted themselves wonderfully well and the response from the audience was enthusiastic. They simply loved them and were astounded at what these children from the shanty-towns could achieve, given the chance. One High Court Judge later tweeted a friend saying, "It was a sublime experience".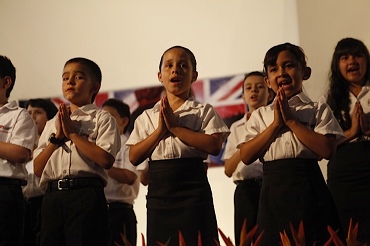 The choir has already been booked to perform a similar concert later in the year and in the meantime………. congratulations continue to flow in.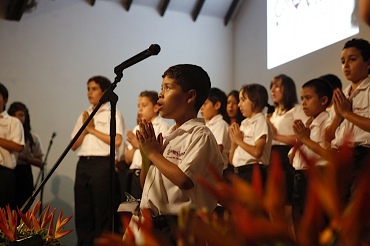 You too can hear our choir, and you don't have to go to Colombia to do it! Their CD, 'Eternal Spring' is available from various outlets: Let The Children Live!'s shop in Walsingham; the Sipper Chapel Shop in Walsingham; St Paul's Bookshops, and by mail order from PO Box 11, Walsingham NR22 6EH. For more information please ring: 01302 858369.
July 28th will see 17, Colman Road, Norwich NR4 7AQ thrown open to visitors from 10am —3pm. The Open House Event will be in aid of Let The Children Live! and there will be refreshments, an exhibition, music and a Bring and Buy Stall. Peter Kemp, of St John's Cathedral Justice and Peace Group, is in charge of the Event and is looking forward to welcoming many friends and supporters to his home on the 28th.
Donations are still coming in from 29 schools in the Archdiocese of Motherwell and Glasgow, where visits were made during Lent this year by Fr Peter, Pauline Allan and George McAleenan. The people of Scotland have long been faithful supporters of Let The Children Live! and the schools are no exception. Later this year, in October / November, Fr Peter will be making 4 more visits to the Glasgow / Motherwell area.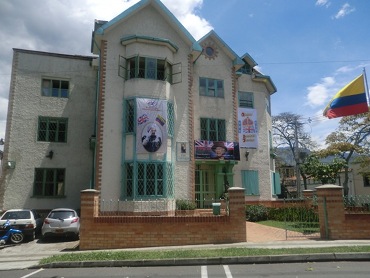 The children and staff of Funvini celebrated the Queen's Diamond Jubilee at Casa Walsingham on June 5th.
As well as watching the celebrations in Britain on television, the children re-enacted the coronation……………………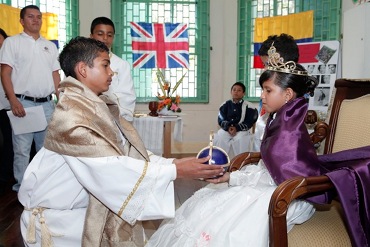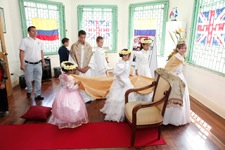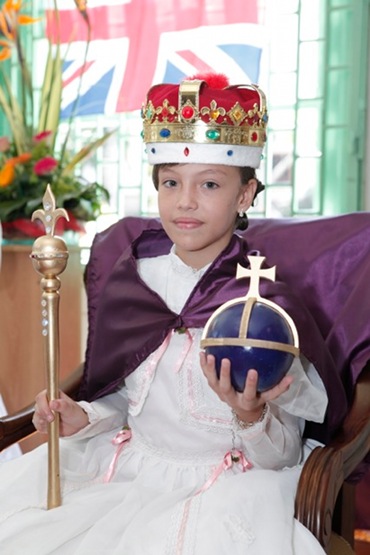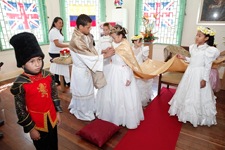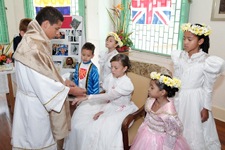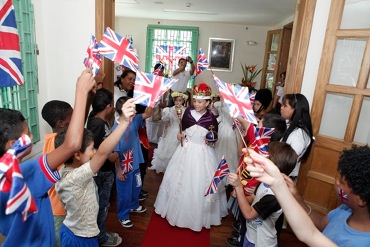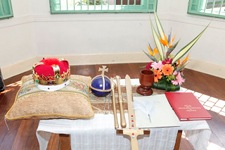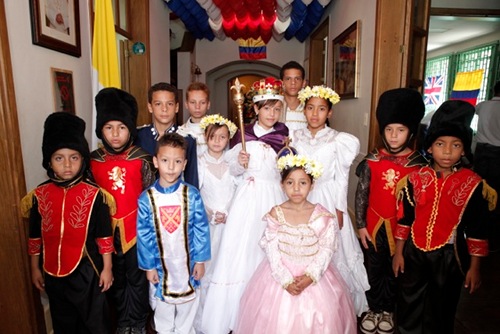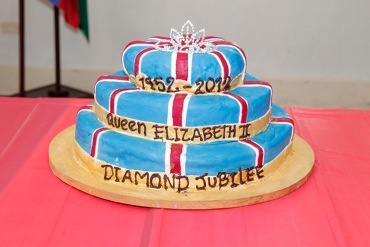 and enjoyed a special lunch and Jubilee cake.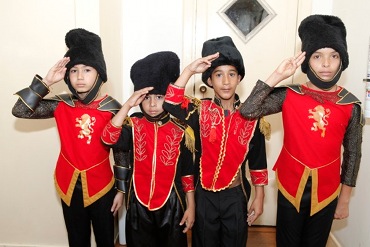 The Guards were there………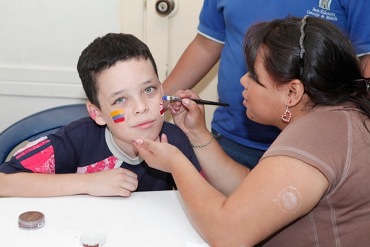 ………..and the flags were out (!!)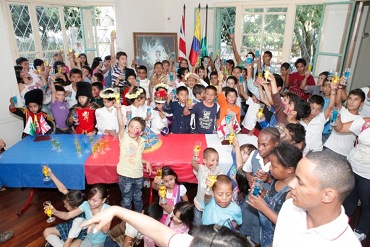 They drank the Loyal Toast…..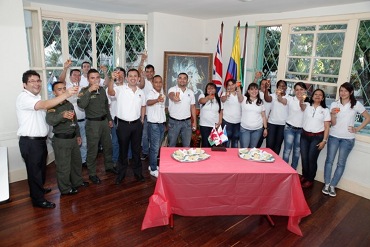 and Funvini's staff joined in.
The celebrations have been designed to let our children share in the joy of the many British children whose generous support helps to make our charity's work possible. We hope that by enabling our children to reflect on Her Majesty's example of dedication and service we will encourage them to become better and more patriotic citizens of Colombia.
Next month 60 of the children will enjoy a break from the violence and poverty of the shanty-towns when they go off to a character-building Jubilee camp in the countryside near Villa de Leyva. This will also enable them to make their first visit to Bogotá to learn something of their own country's history and institutions. In July Cor Videns, Funvini's Choir, will give a Jubilee Concert for the British Community in Medellín and this will be attended by both the Ambassador and the British Consul.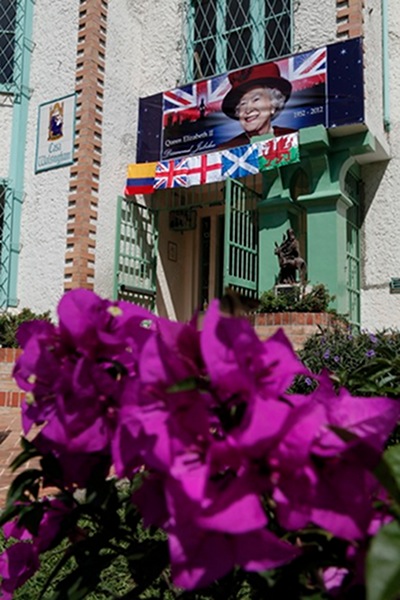 Congratulations, your majesty!!
Will Hollingsworth started running 5 or 6 years ago. He started out running 1.5 miles and ended up running the London Marathon for Let The Children Live! in 2011. It didn't take him 5 years to build up from 1.5 to 26 miles, but it did take him that long to win a free place in the Marathon. It's not easy to get a place in the London Marathon and it took Will 5 attempts but he stuck at it until he got his place, and he raised £713 for our children in Colombia. He applied again for this year's race but unfortunately didn't get a place, so he decided to run the Bath Half-Marathon instead. And here he is………..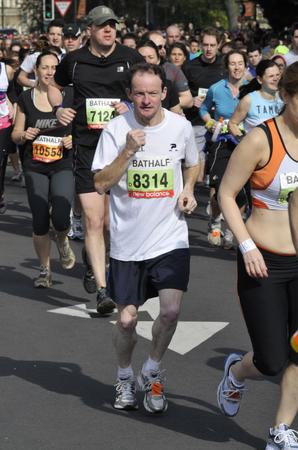 starting out………..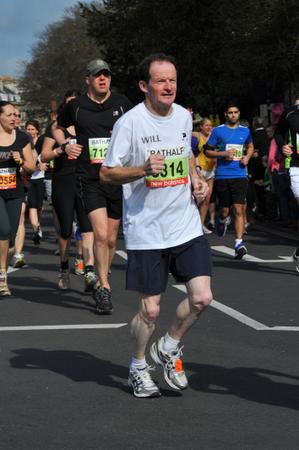 looking very determined…
and finishing well!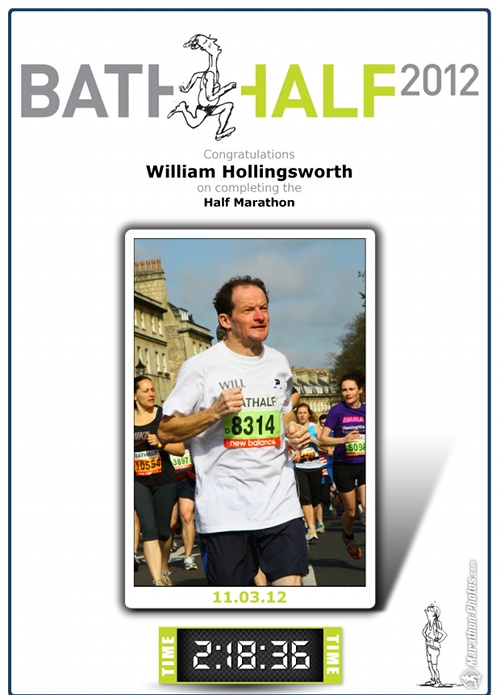 He's Done It!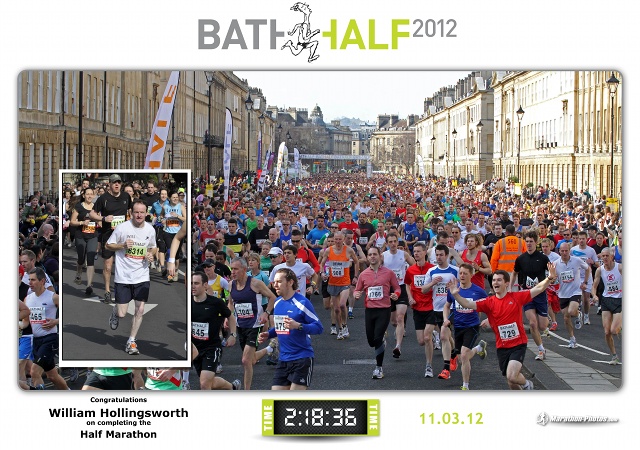 WELL DONE WILL!—-and
thank you very much for
£562.50!!!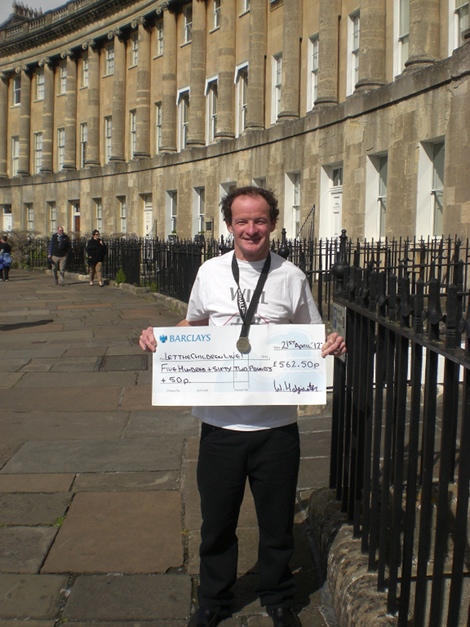 And he's just applied for the London Marathon 2013!
On May 13th Mariette Kono will be taking part in the IGNIS Women's 10k Run in order to raise money for the charity. If you would like to support her effort please go to her Justgiving Page at: www.justgiving.com/Mariette Kono where you can make a donation.
We hope the training is going well, Mariette!