Archive for the 'Latest News' Category
The parish of St Bernadette's, Erskine decided to hold a concert to raise funds for Let The Children Live! so, beginning in October 2013, a group of them met each Tuesday evening in order to 'plan and practice'. They wanted to involve as many parishioners as possible, including young people from their Youth Cafe and local Caritas Award Group, and much enjoyment was had by all. By December 21st, the date of the concert, they were ready.
The first part of the concert was centred on the charity, and a Powerpoint Presentation was given, showing our children in Colombia, whilst the concert group sang Beauty for Brokeness. Two more carols followed and then everyone lit candles whilst John Rutter's Candlelight Carol was played. 
The scene thus set, there followed 'I Dreamed a Dream' by a teenage parishioner plus 'O Holy Night' and 'Born in the Night' by two adult soloists. In addition, the young granddaughter of a parishioner did her ballet interpretation of Eva Cassidy singing 'Fields of Gold'.
The final part of the concert was given over to audience participation with a sing-a-long that involved various Carols and Christmas songs, AND ' a very energetic version' of the Twelve Days of Christmas, which was so energetic that parishioners were still feeling stiff from their exertions on the following Sunday! I can only imagine that the Lords had been 'a-leapingl and the Ladies  'dancing'!
The result of all this was a donation to the work of Let The Children Live! totalling £332.50 for which we say a big 'Thank You'! We hope you'll do the same thing next year, St. Bernadette's! And, we hope that other parishes and groups might consider doing the same thing or something similar. Have some fun and fundraise at the same time. You might even consider doing a Pantomime! Now there's a challenge for you!
After 3 years of loyal service, during which she kept the shop afloat during difficult economic times, Mrs Susan Poole retired as Manageress on December 31st. We wish to offer her the charity's warmest thanks and hope she will enjoy her new-found freedom! She will, however, still be working in the shop as a volunteer on Wednesday afternoons.
As from today, January 2nd 2014, the new Manageress will be Mrs Jackie Seals, who some people may know from her years working in the Walsingham Estates Office. We wish her every success and happiness in her new post and we hope that many of you will call in at our shop when you visit Walsingham this year.
A Happy New Year to all our supporters!
Did he walk to the North Pole? Did he swim the channel? Did he sail around the world? No? Well then, what DID George McAleenan do to raise £10,100? The answer is: he just went on a sponsored walk in the area around Motherwell, where he lives. He did, however, work extremely hard beforehand, getting himself some very generous sponsors. George, who represents the charity in Scotland, undertakes a sponsored walk each year in order to raise money to buy Christmas presents for our 500+  children, who otherwise wouldn't receive any. This year's total was a record so 'Thank You!' George, and 'thank you' to all your sponsors!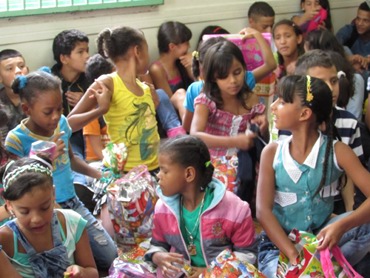 The cheque you can see in the photo above brings the total raised by St Leonard's RC Primary School in East Kilbride to an amazing £11,200! The school has been supporting the work of Let The Children Live! for some years now and has raised more for the charity than any other Scottish school! Below is a description of how this year's money was raised:
"For the past few years Let The Children Live! has been the focus for Advent Fund-Raising in St Leonard's Primary School, East Kilbride. This year the children were once again asked to put their Christmas Lists to one side for a few weeks and think about Fr Peter's street-children in Medellín, Colombia, and how they could help give them a better Christmas.
The fund-raising started with a Saint Andrew's Day Mass and Coffee Morning where families and friends were entertained with a concert party consisting of Tin Whistlers, School Choir and Scottish Country Dancers. Over the next few weeks the children raised money in their classes by holding raffles and cake and candy days. A special non-uniform day helped boost the funds and senior pupils, staff and parents took part in a bag-packing session at their local Sainsbury's store while shoppers were treated to Christmas carols from the Saint Leonard's School Choir.
At the school's Christmas Holiday Mass, celebrated by Parish Priest and School Chaplain Fr Gerard Chromy, Depute Head Boy Darren Rankin and Depute Head Girl Amy McKenzie, presented a cheque for £1,200 to Mr George McAleenan from Let The Children Live! George thanked and praised the children for their outstanding efforts and told them that the school has now raised more than £11,000 over the years to help the street-children of Colombia.
Head teacher, Des Timmons, was very proud of the way the children had responded to the call to think of others during Advent and thanked the parents for their generous support of the children's efforts."
On behalf of our children we too send our warmest thanks and good wishes to the Head, Mr Des Timmons and to all the pupils, parents and staff.
Kieran Gullan is a remarkable little boy!  After seeing a Presentation about Let The Children Live's work in Colombia, 9-year old Kieran, a pupil at Holy Family School in Aberdeen, was deeply moved and felt he had to do something to help the children there. He knew that his church, St Margaret's Episcopal Church, gives 1% of it's income to charity each year and so, with his mum's help, he spoke to the congregation asking that this year the money should go to Let The Children Live! The Dean, Fr Emslie, and all the congregation were so impressed that they voted to give the charity a cheque for £605! Well done, Kieran, and 'Thank You' from all our children!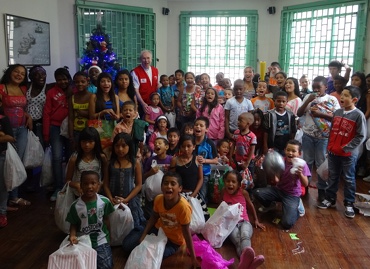 For most of our children, the present they receive from the charity is the only one they will receive at Christmas and so it means a great deal to them. Buying, wrapping and giving out the presents is a lengthy job with more than 500 children to cater for, but it's also a time of great excitement and happiness, as you can see in the photos below.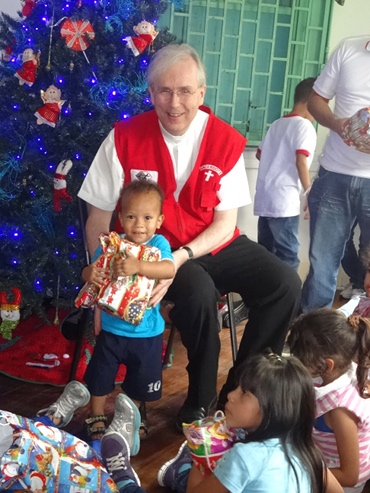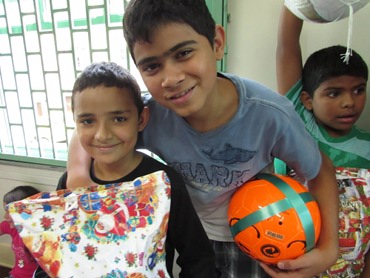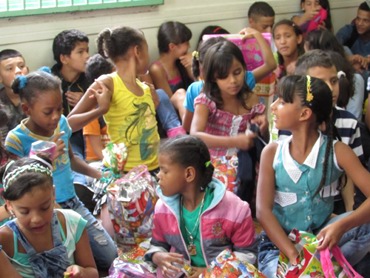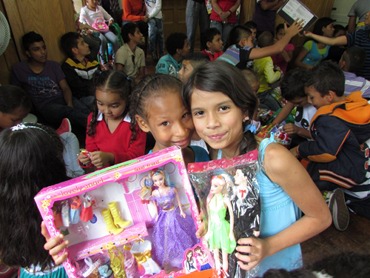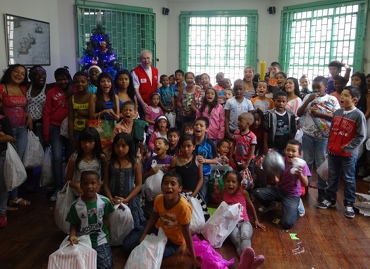 The Archbishop of Medellín recently invited Funvini's choir, Cor Videns, to sing in the city's Metropolitan Cathedral on Sunday 17th November, during a Mass to mark the end of the Year of Faith. The children, who all come from Medellín's shanty-towns, acquitted themselves very well and proved to be good ambassadors for the charity.
Between 2010 and 2013 Dorothee Schack has raised over £11,000——£11,674.75 to date——-in order to help us cover the running costs of our choir, Cor Videns ( The Seeing Heart Choir ). This money has played a vital part in enabling the choir to survive during these last few difficult years and we are most grateful to her for this.
Dorothee teaches music and it is very fitting that she has used music to raise the money that has helped Funvini's choir to survive. Many of her music students have performed in concerts that have raised money and the Taplow Youth Choir staged a concert that raised £800 in 2011. On December 8th this year they are staging another. Many members of that choir also raised money by carolling at Christmas.
Her family helped too. Her daughter Laura, who plays the basoon and sings, gave money from concerts in which she was involved, and she encouraged her college–Somerville College, Oxford– to support the project. Friedmann, Dorothee's son, did his bit too. He undertook two sponsored bike rides, one to Paris and one to Southern Italy. Many of her friends gave her donations and so the total grew and grew.
Dorothee had a target of £10,000 and in summer 2013 it was in sight. The family decided to make the final push, in quite a novel way. For their summer holidays they were to visit the USA where they had once lived. They had a marvellous time hiking and back-packing, so how did they raise money for Funvini's choir? Well, in two ways: wherever they went they told people about the choir project and people gave them donations, but the main thing they did was quite different. When they were planning their trip they decided that instead of hiring a large car, so that the five of them could travel in comfort, they would hire a smaller one and give the money saved to the choir project. True, it would be a tight fit and they would be pretty squashed, but they were unanimous in agreeing to it. So that's what they did, and great fun was had by all!
This is a remarkable story of a musical family dedicated to raising money so that children from the violent shanty-towns of Medellín could continue to sing!  So, THANK YOU DOROTHEE AND ALL THE SCHACK FAMILY!!! AND EVERYONE WHO SUPPORTED THIS PROJECT.  We hope to bring our choir to Britain eventually to do a concert tour; perhaps in 2016. Then you and many of the people who have helped you raise this money, will have a chance to meet them and hear them in person.
Let The Children Live! seeks an experienced and enthusiastic person to manage its shop and team of volunteers in Walsingham, from January 2014.This post requires an average of 20 hours per week, but timing and pay to be negotiated. Interviews on 7th November. Applications with CV and details of 3 relevant referees to: PO Box 11, Walsingham, NR22 6EH by October 27th.