Archive for the 'Latest News' Category
Our newsletter Vivant! will be out later this year.
The Intercessions have been sent out this week.
Fr Peter will be in the UK to make Appeals and give Presentations between April 24th and May 17th, and between June 13th and July 5th. Details of venues will be posted later. More engagements are needed at the moment, in Parishes, Schools and Clubs. Can you help?
Rosaries, hand-made in Houston,Texas will be available in our shop in Walsingham from Easter onwards.
Vestments made in Colombia will also be on display in our shop from Easter onwards and may be ordered there.
February 2015
We are always in need of parishes where we can make Appeals and of schools where we can give Presentations. We also give talks and Presentations to Rotary, Lions, UCM, and various other groups. Can you help to obtain engagements for us?  If you can please ring 01302 858369 or e-mail:
letthechildrenlive@mac.com
On February 8th Fr Peter will be preaching in Southend:
10.30am:  St Pius X, Hockley
6pm:  St Peter's, Eastwood
George McAleenan will once again be doing his Annual Sponsored
Walk on Sunday, 19th October. He will be raising money to buy
Christmas presents and various treats for our 550 children in
order to bring some joy into their Christmas. Things are costly
in Colombia but George's supporters are extremely generous
and last year he raised £10,000! Anyone wishing to add to
George's total this year can write to him at:
81, Calder Road, Mossend, Bellshill ML4 2RH
Cheques should be made payable to   'Let The Children Live!'
News From Luxembourg
15th Dragons for Children Day – Saturday 12th July 2014
Dragons for Breakfast are proud to announce their 15th Dragons for Children Day that will take place on Saturday 12th July 2014. As with their previous events there will be two sessions from 10:00 – 13:30 and 14:00 – 17:30. Children can choose three activities per session from the list below.
   *  Making Hammocks (supporting up to 50kg)
   *  Making Bird Feeders (Ceramic & Mixed Media) 
   *  Clay Clocks (Slab building)
   *  Bird Scarers
   *  Teapot fish
   *  Plus all the usual activities (baby Dragons, T-shirts, free play with clay, etc.)
The cost is €25 per session per child/per session, and children can choose up to three activities per session(from the list above), with additional activities charged at the appropriate rate.
Places are limited and MUST be booked in advance, so please call 350433 or 621 459 081 or email info@dragonsforbreakfast.com now to book your place now and avoid disappointment.
When booking your place please specify the following:
   *  Name & age(s) of the child(ren)
   *  the session you wish to attend (morning or afternoon)
   *  a contact number
Those who already made a provisional booking at the last Dragon day, are kindly asked to confirm their booking by email. We should be grateful if you could tell any friend and colleagues who might also like to attend.
As always there will refreshments available throughout the day.
Dragons For Breakfast would like to thank the New Delhi Indian Restaurant, the Del Bivio Restaurant and Jeremy & Grainne for providing and serving the delicious food throughout the day, as well as all those supporters who bring cakes, biscuits, and snacks, all of which normally prove very popular with the children and parents alike.
For further information about Dragons For Breakfast and their activities please also visit their Facebook page www.facebook.com/dragonsforbreakfast.
As always all proceeds will go to their selected Charity Let the Children Live, which supports the street children in Medellin, Colombia by providing them with food, shelter an education.
We are now able to offer our supporters the chance to use Smart Text Giving as a way of making a single donation to us, or of setting up regular donations. The money will be processed and forwarded to us by CharityCheckout and all you will have to do is text DONATE VIVANT to 88802. Once you have sent the text you will receive an instant auto-reply giving you Let The Children Live's payment link and you will then be able to complete the payment on your phone.
St Stephen's, Dalmuir, has been a good supporter of Let The Children Live! for some years now and their latest effort, an Easter Egg Hunt, was organised by the children of the parish. A group of children from St Stephen's School, who also attend the Sunday School and the Sunday Club, are taking part in the Pope Francis Faith Award. This involves working in and for the parish, and for the wider community. The children, all primary 6, decided to hold an Easter Egg Hunt to raise money for children who are helped by Let The Children Live! 
The week before Lent began the children sat down and talked about what would be required to make the day–Easter Sunday–a success.They did a letter for the parish bulletin asking for donations of Easter Eggs to sell, raffle prizes and home baking on the day. They asked Mrs Shields, the parish provider of cups of tea and coffee—if she and her ladies would prepare tea and coffee for them on Easter Sunday and she was happy to oblige. Each Sunday, at the Club, the children met for 15/20 minutes to talk about how things were progressing and they showed great commitment and teamwork. There was no bickering and everyone played their part faithfully!
As Easter Sunday drew near preparations became more intense. The church "penny jar" in which all the children put 1p and 2p coins when they can, was used to buy sweets and the boys and girls gave up several hours of their holidays to bag them up to sell on the day. They also cut out paper eggs for the Hunt. When Easter Sunday dawned they were all there to help and they entered into the Event with great enthusiasm. Their reward was to see the total raised for our children in Colombia—£600—which was a magnificent achievement! The knowledge of how this money would help children from the streets and shanty-towns of Medellín made them very happy.
Well done! to all these boys and girls, who have shown such unselfishness and concern for others.
 A big Thank You! to everyone involved.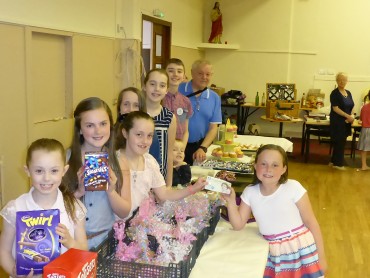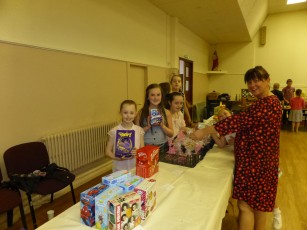 Saturday morning is Coffee Morning at St Bride's Church, in East Kilbride, and being supporters of Let The Children Live! the parishioners decided to dedicate the proceeds of one of them to the charity. George McAleenan went along to give a talk and update everyone, which was much appreciated.  
The Event raised the wonderful total of £405-00, for which we say a big THANK YOU!
This was Will Hollingsworth running in last year's Bath Half-Marathon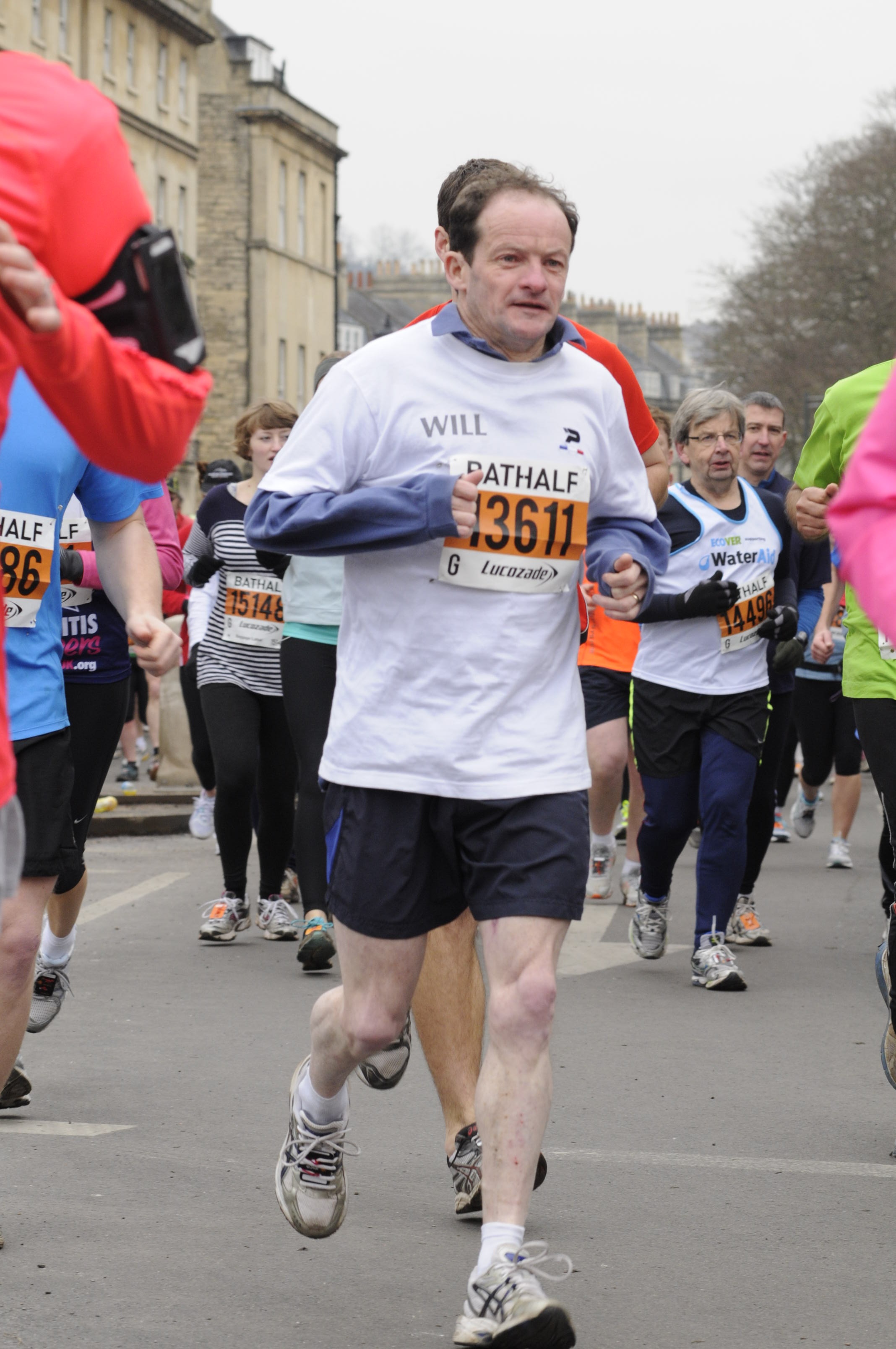 to raise money for Let The Children Live! and next Sunday, March 2nd, he'll be doing the same thing all over again. Will has been running marathons and half-marathons for us for years now—so he's obviously very fit!  Many thanks to you Will!
If you would like to sponsor him please ring the charity on 01302 858369.