Archive for the 'Latest News' Category
Our intrepid supporter and tireless volunteer from Mossend, George McAleenan, will soon be on the march again, walking to raise money for presents, food, activities and treats for our children this Christmas. George has done this for many years now and last year he raised the phenomenal amount of £13,000! He will be doing his walk on October 18th and until then he is looking for sponsors who will help him raise at least as much as last year, so that our 500 children will know they are not forgotten at Christmas.
If you would like to  help him in this task you can contact him by e-mail at: georgemcaleenan@gmail.com or by contacting the charity at: letthechildrenlive@mac.com
October 18th: George completed his Sponsored Walk today.
Standing Orders account for an important and significant part of the charity's income. The most usual way for a supporter to set up a Standing Order is for them to fill in one of our forms and post it back to us. We then put the details on our database and send the form to the donor's bank so the bank can arrange for the payment to be made. It is important that we keep all the donor's details correctly, particularly when Gift Aid is involved.
Other donors set up monthly donations through CharityCheckout, our on-line Credit Card Donation site and this is fine. CharityCheckout informs us and we are able to keep our records updated. 
Yet other donors are choosing to set up their own Standing Orders on the Internet and again this is absolutely fine. It does mean, however, that we often do not have any details other than a sum of money coming into the charity's account each month, which may or may not have a name attached to it, depending on the practice of the bank. This makes it difficult to keep the records required of us by Law and demanded by our Auditors, so it would be a great help to us if donors who do this could send us a few details for our records:
their name and address
their bank's name and address
the amount to be donated; starting date and frequency of giving
whether or not the donation is to be gift-aided. 
                         Many thanks for your support.  
Are you waiting for a reply to a message you have sent to us?
Because Let The Children Live! has so few staff, we are not always able to reply to messages immediately: but we do normally manage to do so within a few days. If you have sent us a message that required a reply, but have not received one, the chances are that our reply has been caught by your spam filter. The address from which we reply may well not be the same as the one to which you sent your message, so your computer may have treated it as junk mail. We waste a great deal of time writing replies which do not get through because of this problem. So if you are waiting for a reply from us, please check your junk folder every day. And, of course, if there is no reply there, please send us another message or contact us by telephone.
Sebastián Palacio has been with Fundación ¡Vivan Los Niños! in Medellín for 11 years and was the Head Choirboy of Funvini's Choir for several years. Now he is awaiting the start of his studies at university there, studies that he hopes will lead to him becoming a Musical Director. Possessed of a fine tenor voice, Sebastián was invited to spend 6 months at Worcester Cathedral, as a guest of its choir, and, having obtained a 6-month visa, he arrived on January 7th, fresh from Medellín's 34′ temperatures, and prepared to battle out a British winter that was close to 0′! He has survived remarkably well and loves the UK, and its language, which he has learned to speak very quickly and fluently. 
Between April 7th and 12th Sebastián will be in Walsingham, helping in our charity shop on the High Street and generally meeting as many of our supporters as possible. On Sunday 12th he will transfer to Doncaster where he will stay until the 18th, and where he will be singing in a concert at St Peter-in-Chains Catholic Church, Chequer Road, on the night of Friday 17th at 7.30pm. 
Our supporter Mary Pursglove is a very enterprising lady. Having had to retire from work due to ill health she decided to use her time to help Let The Children Live! So, she organised a St Patrick's Day party for friends and colleagues. With a simple lunch; a plant stall; a raffle—-and of course Irish music!—she hoped to make £100. But her party was such a success that she made 3 times that amount–£300–and, to use her words, they had a 'fab party!'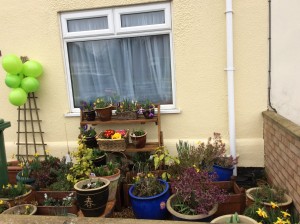 Many thanks to you Mary, and now we hope that others will follow your example and find simple but enjoyable ways of raising money for our children. Could you organise a Coffee Morning for us? Or how about a Tea-Party?  We can supply display material and information leaflets  so not only would you be raising money to help our work, but you would be publicising it for us too. 
For Display Material and Leaflets ring 01302 858369 or e-mail letthechildrenlive@mac.com
Fr Peter will be in Britain at various times this year and is looking for Catholic parishes where he can preach and make Appeals. At the present time the following weekends are free:
April 25th-26th
June 20th-21st
June 27th-28th
July 4th-5th
September 19th-20th
November 14th-15th
He is also happy to visit other denominations, schools or clubs on weekdays and weekday evenings to give Presentations and talk about our work in Colombia.
If you can help please ring 01302 858369 or e-mail: letthechildrenlive@mac.com
Our newsletter Vivant! will be out later this year.
The Intercessions have been sent out this week.
Fr Peter will be in the UK to make Appeals and give Presentations between April 24th and May 17th, and between June 13th and July 5th. Details of venues will be posted later. More engagements are needed at the moment, in Parishes, Schools and Clubs. Can you help?
Rosaries, hand-made in Houston,Texas will be available in our shop in Walsingham from Easter onwards.
Vestments made in Colombia will also be on display in our shop from Easter onwards and may be ordered there.